HOT OFF THE PRESS: JUDGES REGIONAL WINNERS at the British Chamber of Commerce Awards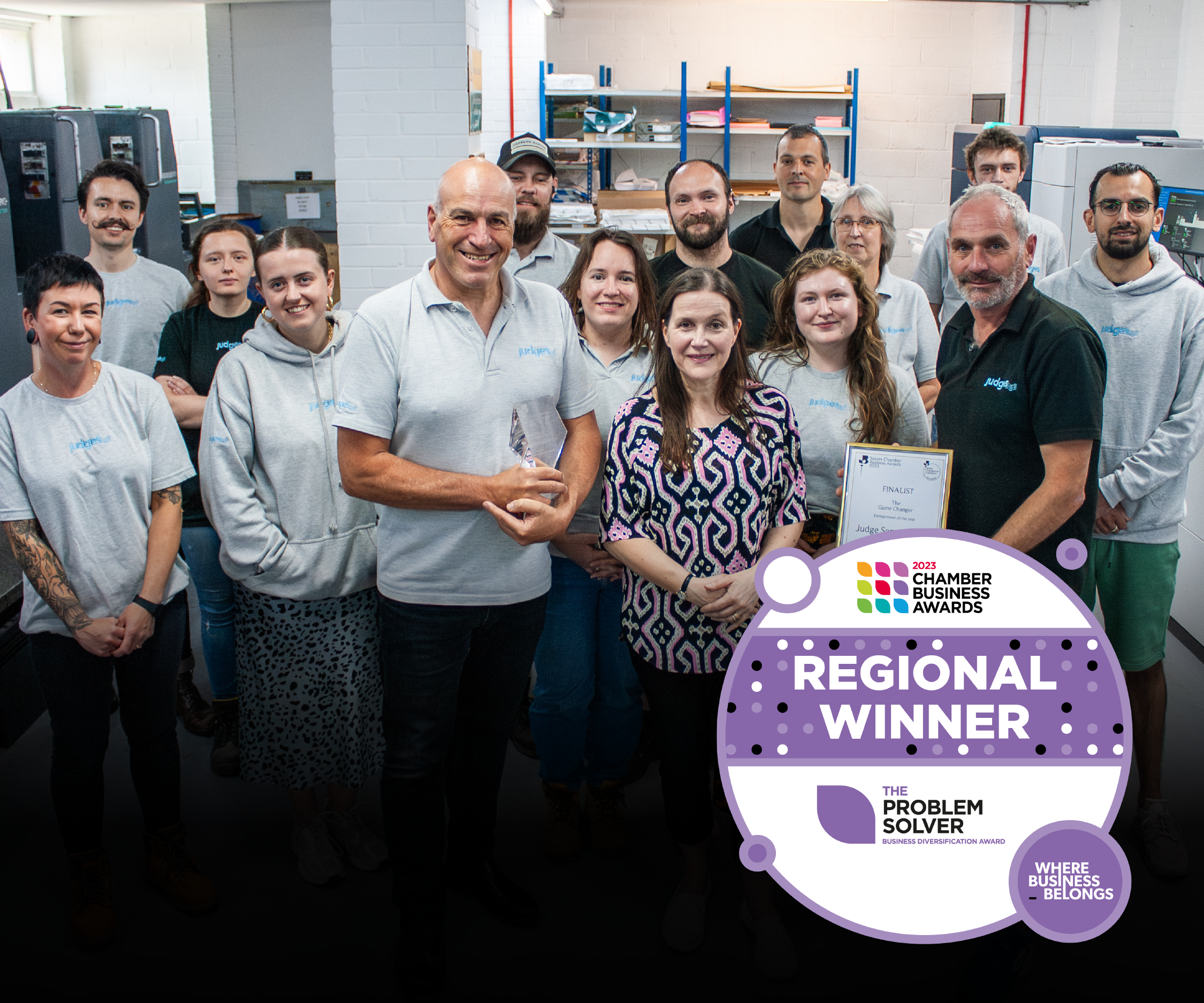 Judges Named Regional Winner in the Problem Solver, Business Diversification Category at the British Chambers of Commerce Awards 2023.
We are delighted to announce that we have been recognised as the British Chambers of Commerce Regional Winner in the Problem Solver, Business Diversification category!
Judges, a design-led UK printer and manufacturer of giftware, bespoke souvenirs, and stationery, has been honoured in the Problem Solver category, a testament to the outstanding hard work of the whole team and our dedication to innovation. We have an exceptional ability to adapt and excel in an ever-evolving marketplace.
The British Chambers of Commerce Awards 2023 celebrate the remarkable achievements of businesses across the United Kingdom, highlighting their innovation, resilience, and commitment to excellence. The Chamber Business Awards are one of the UK's most prestigious business awards, and we are thrilled that so many of our member businesses have been recognised.
Founded by Fred Judge in 1902, with a passion for creativity and innovation, Judges has established itself as a trusted supplier of printed products and giftware for various sectors, including tourism, museums and heritage, retail, charity, and more.
We take pride in our design-led approach, ensuring that each product range meets customer expectations. Our range of offerings includes bespoke souvenirs, giftware, and printed stationery, all proudly manufactured in the UK. This commitment to quality and innovation has allowed us to maintain strong relationships with our customers and partners.
"To be recognised as a regional winner for the transformation that has taken place in our company is a huge 'pat on the back' for our team," said Graeme Wolford, Managing Director at Judges. "We have created a culture of identifying problems and dealing with them as they occur rather than brushing them under the carpet and hoping they will go away. In turn, this created a much more collaborative culture and a healthier, happier, and more prosperous working environment".
The company remains committed to delivering outstanding products and services while embracing innovation and sustainability in the years ahead.
Wish us luck in the national finals!!
For more information about Judges and our range of products and services, please contact sales@judges.co.uk or call us on 01424 420919.